Welcome to the bustling heart of East London, where creativity and innovation thrive in every corner. In this vibrant hub of entrepreneurial energy, finding the perfect workspace is crucial for professionals seeking a productive and inspiring environment. Luckily, we've scoured the city to bring you the top 7 coworking spaces in East London. From chic converted fire stations to cozy homely hubs, these workspaces offer more than just a desk – they provide a community-driven atmosphere that fuels collaboration, growth, and success. So whether you're a freelancer looking for flexibility or an entrepreneur seeking networking opportunities, join us as we explore the best coworking spaces that East London has to offer!
Best Workspace East London – Top 7 Coworking Space
1. The Worker's League Blackheath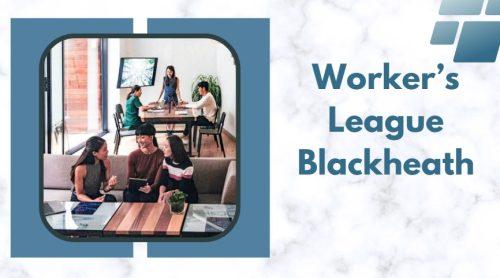 Website: workersleague.com
Nestled within the charming streets of Blackheath Village lies a coworking space that seamlessly blends history with modernity – The Worker's League Blackheath. Housed in a former Victorian fire station, this chic and stylish office exudes an air of sophistication that sets it apart from the rest. With its impeccable design and contemporary features, it stands tall as one of East London's finest workspaces.
Convenience is key at The Worker's League Blackheath, located right in the heart of Blackheath Village. Here, you'll find all the amenities necessary to fuel your productivity and make your workday seamless. From clean water to free tea and coffee that keep those creative juices flowing, every detail has been carefully thought out.
Need a place to store your bike? No problem. The Worker's League offers bike storage for those who prefer eco-friendly commuting options. Plus, if you're a dog lover, you'll be delighted to know that this coworking space is dog-friendly too – because furry friends can provide just the right amount of stress relief during hectic days.
When it comes to staying refreshed and rejuvenated throughout the day, The Worker's League has got you covered. With filtered water readily available and even showers on-site for those who like to squeeze in a workout during their lunch break or after hours.
But perhaps what truly sets this workspace apart is its commitment to providing affordable membership options tailored to individual needs. Whether you choose their flexible daily pass or opt for longer-term plans like Work 4 or Work 10, there's something for everyone looking for a promising coworking solution in East London.
So why wait? Step into The Worker's League Blackheath – where history meets contemporary design – and discover how this stunning converted fire station can elevate your work experience in ways you never imagined possible!
Map:
2. Mainyard Studios Leyton

Website: mainyardstudios.co.uk
Located in close proximity to Leyton station and the Olympic Park, Mainyard Studios Leyton offers a vibrant coworking space that inspires productivity and creativity. The office boasts bright and open spaces, creating an atmosphere conducive to focused work and a sense of tranquility.
What sets Mainyard Studios Leyton apart is its strong sense of community. Members enjoy the benefits of a supportive network that goes beyond just sharing workspace. This tight-knit community provides invaluable assistance by connecting individuals with valuable resources and offering guidance whenever needed.
The flexible design of Mainyard Studios Leyton caters to both freelancers and entrepreneurs alike. With amenities such as printing and copying facilities, free tea and coffee, the option to bring your own food, disabled access, and being dog-friendly – this coworking space ensures all essential needs are met.
Conveniently located at 102 Rookery Ct, London E10 5FA in the United Kingdom, Mainyard Studios Leyton is easily accessible for those seeking a productive working environment. Whether you're looking for a place to collaborate or simply need some quiet time to focus on your tasks, this coworking space has got you covered.
Map:
3. Co-Dalston
Website: www.theco-kitchens.com
Co-Dalston is not your average coworking space. Tucked away amidst the vibrant energy of East London, this hidden gem may deceive you at first glance with its cool cafe exterior. But step inside and you'll discover a thriving community of like-minded individuals working towards their goals.
One of the standout features of Co-Dalston is its commitment to providing a healthy work environment. As a vegan-friendly cafe, it offers nourishing options for those looking to fuel their productivity with nutritious meals. The affordable desk spaces provide ample room for focused work, while the fully functional kitchen allows members to prepare their own meals or enjoy catering services.
But Co-Dalston isn't just about work; it's about fostering connections and creating a lively atmosphere. With amenities such as an outdoor terrace and event space, there are plenty of opportunities for networking and collaboration. The friendly team at Co-Dalston ensures that everyone feels welcome and supported within the community.
Located at 584 Kingsland Road in London, this coworking space offers convenience in addition to its many amenities. And when it comes to pricing, Co-Dalston caters to different membership levels – from free day passes for All-Access members to affordable rates for premium members.
If you're looking for a workspace that combines functionality with a vibrant community spirit, look no further than Co-Dalston in East London. It's where productivity meets creativity in an environment designed to bring out your best self.
Map:
4. Cobalance Cafe
Website: www.cobalance.co
Looking for a coworking space that breaks free from the traditional office environment? Look no further than Cobalance Cafe in East London. This unique workspace offers flexible working passes charged on an hourly basis, making it a convenient and affordable option for professionals on the go.
One of the standout features of Cobalance is its versatile seating arrangement, which caters to teams of varying sizes and tasks. Whether you prefer a cozy corner or an open communal table, there's something to suit everyone's needs.
But what really sets Cobalance apart is its commitment to keeping people energized throughout the workday. With a supply of delicious coffee always available, you'll never run out of fuel for your creativity and productivity.
In addition to great amenities like free Wi-Fi and plugs for all your electronic devices, Cobalance also offers disabled access, making it inclusive to all individuals. And if you're looking for some privacy during important calls or meetings, there are phone booths available as well.
Located at 130 Shoreditch High St in London E1 6JE, Cobalance Cafe is easily accessible in one of East London's vibrant neighborhoods. For more information or inquiries about membership options, you can reach out to them at hello@cobalance.co.
Join the growing community at Cobalance today and experience a coworking space that combines flexibility with affordability without sacrificing comfort and convenience!
Map:
5. Whitechapel Think Factory 
Website: www.whitechapelthinkfactory.com
Whitechapel Think Factory, located within the Holiday Inn Whitechapel, offers a coworking space that breaks away from the typical underused areas found in best hotel lobbies. This carefully designed workspace caters to the needs of individuals seeking an optimal work environment. With light outlets spanning from floor to ceiling, natural light floods the space, creating a vibrant and energizing atmosphere.
In addition to the well-lit ambiance, working at Whitechapel Think Factory provides access to Starbucks coffee for that much-needed boost throughout the day. To combat muscular tension caused by prolonged sitting, members can also take advantage of gym facilities conveniently located on-site.
The amenities offered at this coworking space include plugs for easy connectivity, free tea and coffee for refreshment breaks, filtered water for hydration, the best restaurant bar for convenient dining options, as well as meeting rooms and event spaces available when needed.
Located at 5 Cavell St in London's E1 area, this workspace is easily accessible. For pricing and membership plans, premium and all-access members can enjoy hourly rates ranging from £4 per hour up to £20 for 5 hours or more. Dedicated desks are available starting at $650 per month while private offices start at $1030 per month.
Experience productivity in a setting that combines convenience with comfort – discover Whitechapel Think Factory today!
Map:
6. The Hill Hub Dartford
Website: www.thehillhub.com
The Hill Hub Dartford is a coworking space that understands the importance of providing professionals with an environment that caters to their needs. With amenities like hot desks, private meeting rooms, kitchens, and beverages, they offer shared spaces that are designed for productivity and efficiency. Whether you're working alone or with a small team, The Hill Hub has private spaces available to ensure you have the necessary privacy.
This office has been carefully redesigned to meet the contemporary requirements of those who choose to work from home. They understand that flexibility is key in today's fast-paced world, and they provide options such as hourly passes and day passes at affordable prices. With fixed desks and access to meetings & events spaces, The Hill Hub offers everything you need for a successful workday.
Located on Highfield Road in Dartford, The Hill Hub is easily accessible for locals looking for a convenient workspace. And if you have any questions or inquiries, their friendly team can be reached at hello@thehillhub.com.
Choose The Hill Hub Dartford as your coworking space and experience an environment tailored to your professional needs!
Map:
7. Hatcham House
Website: www.hatchamhouse.com
Hatcham House, nestled in the heart of East London, offers a unique coworking experience that exudes comfort and warmth. Stepping into this space feels like entering a second home, where natural light floods the rooms and creates an inviting atmosphere for productivity.
The team at Hatcham House has gone above and beyond to create a coworking solution that caters to the diverse needs of local professionals. It goes beyond simply accommodating individuals from different backgrounds; their mission is to address the specific professional requirements of the local workforce.
With amenities such as printing and copying facilities, dog-friendly spaces, disabled access, bike storage, and phone booths, Hatcham House ensures that every aspect of your workday is taken care of. From providing necessary resources to creating a supportive environment conducive to growth and development, they understand what it takes to thrive both personally and professionally.
Located at 367 Queen's Rd in London SE14 5HD, Hatcham House is perfectly situated within reach for locals seeking an inspiring workspace. To learn more about their pricing options or book your day pass as an All-Access or Premium member (with free or discounted rates), reach out to info@hatchamhouse.com.
Discover a coworking space where you can truly feel at home – visit Hatcham House today!
Map:
Related Article: 
Best Coworking Space Farringdon
Best Coworking Space Kensington
Best Coworking Space Shoreditch