Are you looking for a unique and luxurious way to experience the stunning natural beauty of South West England? Look no further than glamping! Combining the comforts of home with the excitement of camping, glamping is an unforgettable way to connect with nature without sacrificing any modern amenities. From the rolling hills of Somerset to the rugged coastline of Cornwall, we've compiled a list of some of the best glamping in South West England. So pack your bags and get ready for an adventure like no other!
Top 9 Glamping in South West England – Step Into a World of Adventures
1. Wild Place Project
Wild Place Project offers a unique glamping experience that combines luxury with wildlife conservation. Wake up to the sounds of exotic animals as you stay in one of their luxurious safari tents, complete with comfortable beds and private bathrooms.
But Wild Place Project is more than just a place to stay – it's also an opportunity to learn about and support animal conservation efforts. Take a guided tour through the park or participate in one of their many educational programs aimed at raising awareness about endangered species.
When you're not exploring the park, relax by your own personal fire pit or take a dip in the nearby hot tub. And don't forget to indulge in some delicious local cuisine at their on-site best restaurant!
Whether you're travelling solo, with friends, or as a family, Wild Place Project has something for everyone. So why settle for ordinary accommodations when you can have an unforgettable glamping experience surrounded by amazing wildlife?
Website: www.wildplace.org.uk
2. Eco Retreats Cornwall
Eco Retreats Cornwall is a true paradise for those seeking to escape from the hustle and bustle of everyday life. Surrounded by lush green forests and rolling hills, this glamping site offers visitors an opportunity to reconnect with nature.
The accommodations at Eco Retreats are truly unique. From luxurious yurts to eco pods nestled in the woods, there's something for everyone. Each accommodation is equipped with all modern amenities, such as comfortable beds, private bathrooms, and kitchenettes.
One of the highlights of staying at Eco Retreats Cornwall is exploring its surroundings. Guests can take a leisurely stroll through the nearby countryside or hike along one of many scenic trails that lead through ancient woodlands.
For those who prefer more adventurous activities, there's plenty on offer too! Try your hand at surfing or paddleboarding along some of Cornwall's most beautiful beaches. Or explore hidden coves and secret spots that only locals know about!
At nightfall, guests can relax around a campfire under starry skies while enjoying locally sourced food prepared by experienced chefs. All in all, Eco Retreats Cornwall provides an unforgettable experience for anyone looking to immerse themselves in nature and unwind from daily stressors.
Website: www.cotna.co.uk
3. Tehidy Holiday Park
Tehidy Holiday Park offers a unique glamping experience for those who love the great outdoors. With its peaceful surroundings and stunning natural beauty, this park is perfect for families, couples or solo travellers looking for an escape from city life.
Tehidy Holiday Park features a wide range of accommodation options to suit all tastes and budgets. From luxury lodges and cabins to cosy yurts and tents, there's something here for everyone.
One thing that sets Tehidy apart from other holiday parks is the wide range of on-site activities available to guests. Whether you're keen to try your hand at fishing or fancy exploring the local area by bike, there's always something fun and exciting going on here.
The park is also ideally located close to some of Cornwall's most famous attractions, including St Ives Bay and Land's End. So whether you're looking to relax on the beach or explore some historical sites, you'll never be short of things to do during your stay.
If you're looking for somewhere special to spend your next glamping holiday in South West England, then look no further than Tehidy Holiday Park. With its unbeatable location, top-class facilities and excellent customer service, it promises an unforgettable experience that you won't want to miss out on!
Website: www.tehidy.co.uk
4. Longlands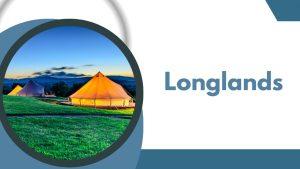 Longlands is a luxurious glamping site in the heart of Devon. Nestled amongst rolling hills and stunning countryside, this family-friendly retreat offers guests the chance to escape from everyday life and immerse themselves in nature.
With spacious safari tents that can sleep up to six people, Longlands is perfect for families or groups of friends looking for a unique getaway. Each tent comes equipped with everything guests need for a comfortable stay, from plush beds and cosy wood-burning stoves to fully-equipped kitchens and private bathrooms.
At Longlands, there's plenty to keep everyone entertained – whether it's exploring the surrounding woods and fields, playing games on the lawn or taking part in one of the many activities on offer. From archery lessons and guided walks to yoga sessions and stargazing nights, there's something for everyone at Longlands.
For those who want to venture further afield, the nearby town of Combe Martin offers plenty of seaside charm, while Exmoor National Park is just a short drive away. But with so much on offer right on your doorstep at Longlands, you may never want to leave!
Website: www.longlandsdevon.co.uk
5. Koa Tree Camp
If you're looking for a unique glamping experience in Devon, look no further than Koa Tree Camp. Situated on Higher Pennycott Farm near Bideford, this eco-friendly campsite offers luxurious accommodations that blend seamlessly with the surrounding nature.
The accommodation options at Koa Tree Camp include geodesic domes and yurts, each of which is decorated with natural materials and minimalist furnishings. Inside your dome or yurt, you'll find a comfortable bed, cosy blankets and pillows, and plenty of space to relax.
In addition to the stylish accommodations, Koa Tree Camp also boasts an impressive array of amenities. Guests can enjoy hot showers in the communal bathroom block or cook up a delicious meal in the shared kitchen area. There's even a wood-fired hot tub where you can soak under the stars!
Of course, one of the main draws of Koa Tree Camp is its stunning location. The campsite is tucked away amidst rolling hills and picturesque countryside – it truly feels like an escape from the hustle and bustle of everyday life.
If you're seeking a peaceful retreat in Devon that combines luxury with environmental responsibility, be sure to check out Koa Tree Camp!
Website: www.koatreecamp.com
6. Crafty Camping
If you're looking for a unique and eco-friendly glamping experience in Dorset, look no further than Crafty Camping. Nestled in the heart of West Dorset, this campsite offers guests the opportunity to stay in beautifully crafted bell tents known as "Betsy's Bell."
Each tent is handcrafted using natural materials such as canvas and wood, giving guests an authentic camping experience without sacrificing comfort or style. Inside each tent, you'll find cosy beds with luxurious linens and soft furnishings.
One of the highlights of staying at Crafty Camping is their outdoor kitchen area. Here, guests can cook up delicious meals on open fires while enjoying stunning views of the surrounding countryside.
For those who want to get even closer to nature, there are plenty of opportunities for hiking and wildlife spotting in nearby forests and nature reserves. And if you need a break from all that fresh air and exercise, why not unwind with some yoga or meditation classes offered on-site?
Crafty camping truly offers something special for glampers seeking a one-of-a-kind experience in South West England's beautiful countryside.
Website: www.mallinson.co.uk
7. Somerset Yurts
Looking for a unique glamping experience in the South West? Look no further than Somerset Yurts! Situated on the stunning Hemsley Conservation Centre, this site offers visitors an unforgettable stay in traditional Mongolian yurts.
Each yurt is beautifully decorated with authentic furnishings and provides comfortable accommodation for up to six people. The site also includes a communal kitchen area and modern bathroom facilities, ensuring that guests have everything they need during their stay.
One of the highlights of staying at Somerset Yurts is the opportunity to explore the surrounding countryside. The conservation centre is home to a variety of rare breeds, including Exmoor ponies, Soay sheep and Red Deer. Guests can take part in guided walks around the estate or simply relax under the stars with a glass of wine.
Whether you're looking for a romantic getaway or an adventure with friends, Somerset Yurts has something for everyone. Book your stay today and experience glamping at its finest!
Website: www.somersetyurts.co.uk
8. Middle Stone Farm
Nestled in the tranquil countryside of Somerset, Middle Stone Farm offers a peaceful and secluded escape for those seeking a unique glamping experience. The farm boasts an array of accommodations, including luxurious bell tents and rustic shepherds' huts, each furnished with cosy beds and charming decor.
Guests can enjoy stunning views of the surrounding hills while indulging in locally sourced produce from the on-site farm shop or taking part in one of the many activities available, such as nature walks or yoga classes. For those looking for some adventure, there are also opportunities to go horse riding or cycling along nearby routes.
But it's not just about relaxation at Middle Stone Farm – sustainability is key here too. The site operates using renewable energy sources and encourages guests to participate in recycling efforts during their stay.
Middle Stone Farm provides a refreshing change from traditional accommodation options with its eco-friendly approach and idyllic location. It's definitely worth considering for anyone visiting South West England who wants to unwind and connect with nature.
Website: www.middlestonefarm.com
9. Stonehenge Campsite
South West England has a lot to offer for glamping enthusiasts, from eco retreats and yurts to luxury cabins and tents. Whether you're looking for a romantic getaway or a family-friendly adventure, there's something for everyone in this beautiful part of the UK.
The Stonehenge Campsite in Wiltshire is definitely worth mentioning as it offers not only stunning views but also proximity to one of the world's most famous landmarks. With its spacious pitches, excellent facilities, and peaceful surroundings, this campsite offers an unforgettable experience that combines nature with history.
Glamping in South West England provides an opportunity to disconnect from everyday life while enjoying all the comforts of modern living. From stargazing under clear skies to exploring picturesque countryside landscapes – there's no doubt that every glamping experience here will be unique and memorable.
So if you're planning your next holiday or weekend break away, why not try glamping? It might just surprise you how much you love it!
Website: stonehengecampsite.co.uk
Conclusion
If you're looking for a unique and memorable experience in South West England, glamping is the way to go. With stunning locations and luxurious accommodations available at every turn, there's something for everyone in this region.
Whether you're interested in exploring Bristol's Wild Place Project or relaxing on the beaches of Cornwall or Devon, these glamping sites offer the perfect balance between comfort and adventure.
So why not book your next getaway today? With so many amazing options to choose from, you're sure to find the perfect destination for your next vacation. Happy glamping!