Welcome to the charming town of Frome, nestled in the heart of Somerset. Whether you're looking for a luxurious getaway or a budget-friendly stay, this town has something to offer every traveller. To make your search easier, we have rounded up the top 10 hotels in Frome that cater to all preferences and budgets. And as an added bonus, we've included a map so you can easily navigate your way around this picturesque town. So without further ado, let's dive into our list of the best hotels in Frome!
Best Hotels in Frome – Top 10 
1. Full Moon Inn Rudge 
Website: www.fullmooninn.co.uk
Full Moon Inn Rudge is a luxurious 4-star hotel located in the heart of Frome, offering guests an exceptional experience. The hotel features modern and comfortable rooms with all necessary amenities such as free WiFi, flat-screen TV, a safety deposit box, and a private bathroom. Some rooms even offer breathtaking mountain views that will leave you mesmerized.
The hotel's restaurant serves delicious British cuisine that caters to everyone's taste buds. In addition, vegetarian, vegan and dairy-free options are also available for those with dietary restrictions.
Guests can enjoy a buffet or à la carte breakfast at the property before heading out to explore Frome's picturesque surroundings. Full Moon Inn Rudge offers activities like hiking for guests who love adventure.
With its allergy-free atmosphere and impeccable service standards, Full Moon Inn Rudge ensures your stay is memorable from start to finish. Don't miss the chance to indulge in luxury while exploring this beautiful town!
Map:
2. Archangel 
Website: www.butcombe.com
Archangel is a stunning medieval inn that dates back to 1311. The property has been transformed into an upscale restaurant with rooms, situated in the heart of Frome's town centre. Its location makes it easily accessible as it is only a 12-minute walk from the Frome railway station and just six miles from Longleat Safari and Adventure Park.
The ten chic rooms are individually decorated with luxurious bathrooms, flat-screen TVs, free Wi-Fi, and tea/coffee-making equipment. Some rooms have vaulted ceilings while others feature murals adorning their walls or free-standing zinc baths.
Archangel's restaurant offers guests an elegant dining experience in its stylish mezzanine area featuring stone walls. A library and courtyard complete this tranquil atmosphere for enjoying exquisite meals. Additionally, there's a contemporary lounge bar where guests can relax after dinner with drinks.
Archangel provides an exceptional stay for those seeking modern-day comforts in a charming historical setting that transports them back to medieval times.
Map:
3. Premier Inn 
Website: www.premierinn.com
Premier Inn in Frome offers modern budget accommodations that cater to families and solo travellers alike. Its convenient location makes it an ideal choice for tourists looking to explore the surrounding attractions, such as Longleat Safari and Adventure Park and Stonehenge.
The hotel's rooms range from singles to doubles, with family rooms featuring two pull-out beds where children under 15 can eat and stay free with paying adults. In-room amenities include free WiFi, en suite bathrooms equipped with showers, tea and coffee-making facilities, TVs, and desks.
For guests' dining needs, there is an on-site Table Table restaurant at the Frome Flyer pub which serves a variety of dishes. Breakfast includes all-you-can-eat options as well as light choices for an additional cost.
Moreover, Premier Inn offers free parking for its guests – a feature that not many hotels in the area provide. This perk adds another layer of convenience to those travelling by car.
All in all, Premier Inn provides excellent value for money while ensuring comfort and convenience during your stay in Frome.
Map:
4. Woolpack Inn by Greene King Inns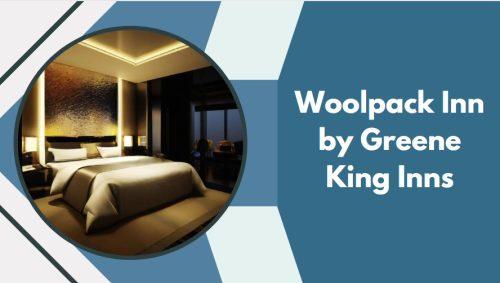 Website: www.greeneking-pubs.co.uk
The Woolpack Inn by Greene King Inns is a historic coaching inn that dates back to the 1500s. This delightful stone-built property is situated in the quaint village of Beckington, just three miles from Frome and eleven miles south of Bath. The comfortable en suite rooms feature unique traditional furnishings and modern amenities such as free Wi-Fi, telephone, TV, hairdryer, and tea/coffee-making facilities.
The inn's restaurant serves freshly prepared dishes featuring locally sourced games from the local shoot and daily deliveries of fish from Brixham. Guests can enjoy fine traditional ales at the bar while taking in the ambience of this charming establishment with its stone floor and large open log fire perfect for those cold winter days.
In warmer months guests can relax in the courtyard garden enjoying refreshing drinks or meals al fresco style. Ample free parking is available on site adding convenience to your stay at this beautiful hotel rich with historic character.
If you're looking for a cosy place to stay while exploring Somerset's stunning countryside then look no further than Woolpack Inn by Greene King Inns.
Map:
5. The Cornerhouse
Website: www.thecornerhousefrome.co.uk
The Cornerhouse is a charming hotel located in Frome, just a short distance away from popular attractions such as Longleat Safari Park and Bath Abbey. With its shared lounge, restaurant, and bar, guests have plenty of options for entertainment when staying at this property.
The rooms at The Cornerhouse are designed to be comfortable and convenient for travellers. Each room comes with a wardrobe, flat-screen TV, kettle for making tea or coffee, and a private bathroom equipped with free toiletries and a shower. Some rooms even feature their own kitchenette with a fridge.
One of the best things about staying at The Cornerhouse is the delicious breakfast that's served every morning. Guests can choose from à la carte options or traditional Full English/Irish fare to start their day off right.
For those looking for evening entertainment after exploring Frome during the day, The Cornerhouse has got you covered too. This hotel offers nightly events to keep guests entertained throughout their stay.
The Cornerhouse is an excellent choice for anyone visiting Frome who wants comfort and convenience without breaking the bank. With its central location and amenities like free WiFi and on-site parking included in your stay, it's easy to see why so many people recommend this hotel!
Map:
6. The George Hotel & Granary
Website:  www.wadworth.co.uk
The George Hotel & Granary is a traditional pub with rooms that offer a comfortable stay in Frome. It's just a 13-minute walk from the train station and conveniently located near several attractions, including Longleat Safari and Adventure Park and Nunney Castle.
The relaxed rooms are equipped with TVs, free WiFi, tea and coffee-making facilities, and some even have four-poster beds for added luxury. Breakfast is included in your stay at The George Hotel & Granary.
If you're looking for some entertainment after a long day of exploring Frome, head down to the pub where you can enjoy real ale or dine on delicious cuisine at the restaurant. There's also a function room available for private events.
Limited on-site parking is available at The George Hotel & Granary, so be sure to check availability before arriving. This charming pub with rooms provides an enjoyable experience for those visiting Frome.
Map:
7. The George 
Website: www.thegeorge.co.uk
If you're looking for a cosy and casual inn with stunning views, The George is the perfect place for you. Overlooking the beautiful 14th-century Nunney Castle, this 17th-century inn offers guests unassuming yet comfortable guestrooms. Each room comes equipped with all the amenities that one could need during their stay including flat-screen TVs, DVD players, free Wi-Fi, and tea/coffee-making facilities.
For those who want to take their visit up a notch or two, upgraded rooms add iPod docks while one room even features a luxurious four-poster bed and fireplace. And don't forget about breakfast – it's included in your stay! Enjoy a full English breakfast each morning before heading out to explore Frome.
When it comes time for lunch or dinner, head over to The George's stylish stone-walled pub where you can sample real ales and indulge in delicious gastro-style cuisine. For those who enjoy dining al fresco style, there's also an option to dine outside in the walled garden which provides picturesque views of Nunney Castle.
The George is perfect for anyone seeking comfort and relaxation during their trip to Frome.
Map:
8. Snoozefrome
Website: www.snoozefrome.co.uk
Snoozefrome is a charming bed and breakfast located in Frome, conveniently situated near popular tourist attractions such as Bath Abbey and The Roman Baths. With cosy rooms equipped with all the necessary amenities, including a wardrobe, flat-screen TV, private bathroom, fridge, and kettle; guests are guaranteed to have a comfortable stay.
One of the standout features of Snoozefrome is its daily buffet and continental breakfast options that include fresh pastries, fruits, and cheese. This added perk will ensure guests start their day off on the right foot before setting out to explore all that Frome has to offer.
Situated just 13 km from Longleat Safari Park and 14 km from Longleat House, this bed and breakfast is an excellent base for families looking for adventure during their stay. Additionally, free private parking makes it easy for those travelling by car.
Snoozefrome offers great value for money with its affordable rates combined with its convenient location making it an attractive option for anyone visiting Frome or nearby areas.
Map:
9. Bistro Lotte
Website: www.bistrolottefrome.co.uk
If you're looking for a cosy and comfortable bed and breakfast in Frome, Bistro Lotte is definitely worth considering. This charming accommodation offers all the amenities you need for a pleasant stay, including a flat-screen TV and a private bathroom complete with free toiletries and a shower.
But what sets Bistro Lotte apart is its location – situated near hiking and cycling trails, this bed and breakfast is perfect for outdoor enthusiasts who want to explore the surrounding countryside. And if you're interested in exploring further afield, Bristol is just 39 km away.
Despite being close to major attractions like Bristol Airport, Bistro Lotte retains an intimate atmosphere that feels like a home away from home. So whether you're looking for adventure or relaxation on your trip to Frome, consider booking your stay at Bistro Lotte.
Map:
10. The Place To Stay
Website: www.theplacetostaysomerset.co.uk
Escape the hustle and bustle of city life by staying at The Place To Stay, a charming bed and breakfast nestled in the tranquil countryside. Housed in an Edwardian farmhouse, this B&B offers eight individually designed rooms that are spread out between the main house and converted barns.
Each room boasts modern amenities such as flat-screen TVs, and minifridges stocked with complimentary milk, tea and coffee-making facilities. Some of these cosy rooms even have exposed oak beams or private lounges for those looking for extra space to unwind.
Guests can start their day on a high note with a free cooked breakfast before heading out to explore nearby attractions like Nunney Castle or Longleat Safari & Adventure Park – both just a short drive away.
The Place To Stay also offers various amenities like free Wi-Fi in public areas, off-road parking, meeting spaces, stabling for horses and even a beauty treatment room! Spend your afternoons relaxing in the garden while enjoying some BBQ or exploring the local hiking trails.
The Place To Stay is perfect for those seeking peace and quiet in nature without sacrificing comfort and convenience.
Map:
Conclusion
Frome is a charming market town in Somerset, UK that has plenty to offer. If you're planning a visit to this beautiful town, then finding the right accommodation is essential for your stay. With top-notch facilities and a range of options to choose from, the hotels listed above are some of the best in Frome.
Whether you're looking for luxurious amenities or budget-friendly options, Frome has got it all covered. From traditional coaching inns to modern hotels with state-of-the-art facilities, there's something for everyone here.
We hope our list of top 10 hotels in Frome helps you plan your trip and make the most out of your stay. So why wait? Book your hotel today and get ready to explore everything this picturesque town has to offer!
Related Articles: