Welcome to Looe, a charming seaside town in Cornwall that boasts some of the best pubs in the area. Whether you're looking for an old-fashioned Cornish pub with live music or a modern gastropub serving up local cuisine, Looe has something for everyone. In this blog post, we've rounded up the top 7 pubs in Looe that offer great food, drinks and entertainment. So sit back, grab a pint and get ready to explore the best pubs in Looe!
Best Pubs in Looe – Top 7
1. The Fishermans Arms
Tucked away in the heart of Looe, The Fishermans Arms is a 600-year-old Cornish pub that oozes character and charm. As you step inside this quaint establishment, you'll be greeted by friendly locals and an inviting atmosphere.
The pub's small garden offers the perfect spot to enjoy a pint on a sunny day while your furry friend can roam around as it's dog-friendly. And if you're lucky enough to visit on a night when they have live music, you're in for a treat! With local musicians filling the air with their tunes, it's easy to see why this place is popular among both tourists and locals alike.
When it comes to food at The Fishermans Arms, expect nothing less than deliciousness served up hot from their kitchen. Their menu may be small but what they lack in quantity they make up for in quality – each dish bursting with flavour that will leave your taste buds craving more.
The Fishermans Arms is not just another pub; it's an experience that visitors should not miss out on during their stay in Looe.
Map:
2. The Ship Inn
The Ship Inn is the perfect place to go if you're looking for some entertainment in Looe. With their regular live music and themed parties, there's always something happening here. And during the summer months, you can enjoy a refreshing pint in their beautiful beer garden.
But it's not just about the fun and games at The Ship Inn – they also cater to sports fans with a big screen showing all the major events. So whether you're into football, rugby, or anything else, you won't miss out on any of the action while enjoying your drink.
The atmosphere at The Ship Inn is always lively and welcoming. Whether you're popping in for a quick drink after work or spending an entire evening there with friends, you'll feel right at home here.
And let's not forget about their great selection of drinks! From local beers to classic cocktails, there's something for everyone on their menu.
The Ship Inn is definitely worth checking out if you want a fun and entertaining night out in Looe.
Map:
3. The Black Swan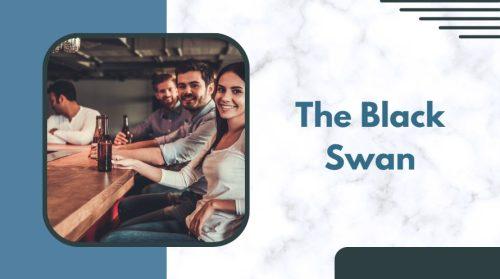 The Black Swan is a charming pub located in the heart of Looe. If you're looking for great food and an authentic British pub atmosphere, then this is definitely the place to go!
As soon as you enter The Black Swan, you'll be met with simple but cosy surroundings that make you feel right at home. The menu offers a wide variety of options, including vegetarian and vegan choices that are sure to please all tastes and preferences.
One dish that stands out from the rest is their famous nachos – some say they're even better than what you'd find in Mexico! But don't just take their word for it; give them a try yourself and see if they live up to the hype.
If nachos aren't your thing, then we highly recommend trying their fish & chips. It's one of their most popular dishes, with fresh local fish cooked to perfection every time!
The Black Swan provides excellent food and drinks at very reasonable prices. It's a must-visit spot on your trip to Looe – especially if you're craving traditional pub grub with a twist.
Map:
4. The Globe Inn
If you're looking for a pub that offers a great view and fantastic drinks, The Globe Inn is the place to be. Located just outside of Looe, this pub boasts an incredible view over the river estuary that will leave you breathless.
Not only does The Globe Inn offer stunning views, but it also has a great selection of drinks including real ales. If you're looking to try something new or stick with your go-to brew, this pub has got you covered.
In addition to its amazing drink selection, The Globe Inn also serves up some delicious food. Whether you're in the mood for classic pub fare or something more adventurous like their famous fish tacos, there's sure to be something on the menu that will satisfy your cravings.
If live music is your thing, then make sure to check out The Globe Inn's calendar of events. They frequently host local musicians who play everything from folk and blues to rock and roll.
If you're travelling with your furry friend don't worry because The Globe Inn is dog friendly. Plus they have free wifi so you can stay connected while enjoying all this beautiful corner of Cornwall has to offer!
Map:
5. Bullers Arms 
Bullers Arms is a public house in East Looe that offers live music and quiz nights. It's a great place to visit if you're looking for some entertainment while enjoying your drink. The atmosphere inside the pub is friendly and welcoming, making it perfect for socializing with friends or meeting new people.
The pub also serves delicious food that pairs well with its selection of drinks. You can try their classic British dishes like fish and chips or enjoy a hearty burger while sipping on your favourite beer. They have something for everyone on their menu, including vegetarian options.
Aside from the food and drinks, Bullers Arms is known for its lively events such as live music and quiz nights. These events are held regularly throughout the week, making it easy to find one that fits your schedule. Whether you're a fan of rock or prefer acoustic performances, there's always something to look forward to at Bullers Arms.
Bullers Arms is definitely worth checking out if you want to experience an authentic English pub with great food, drinks, and entertainment.
Map:
6. Barbican Inn
The Barbican Inn is a must-visit pub for anyone looking to enjoy some of the best food and drink in Looe. With an extensive menu served from Thursday to Sunday, there's something for everyone at this welcoming establishment.
If you're a sports fan, you'll be pleased to know that the Barbican Inn has Sky Sports on offer, so you can catch all the latest games while enjoying a pint or two. And if you're looking for something more low-key, why not try your hand at darts or pool?
One of the standout features of the Barbican Inn is its outside seating area. It's the perfect spot to soak up some sun while sipping on a cold beverage with friends and family. Plus, since it's dog-friendly, you don't have to leave your furry friend behind when heading out for drinks.
When it gets colder outside, guests can cosy up by the log fire inside and enjoy good company and conversation over tasty drinks and dishes.
Whether you're stopping by for lunch or dinner or just popping in for a drink after work, The Barbican Inn offers everything necessary – a great atmosphere along with friendly staff who will make sure your visit is memorable.
Map:
7. The Admiral Boscarn
The Admiral Boscarn is a pub with a twist, located right on the beach in Looe. As you enjoy your ice-cold drink, you can marvel at the stunning view of Looe Beach from their beer garden. The perfect spot to relax and unwind after a long day exploring.
If you're feeling competitive, head inside to their newly decorated lounge bar and challenge your friends to a game of pool. It's the perfect way to spend an afternoon or evening with friends, enjoying each other's company while sipping on refreshing drinks.
As it is a family-run business, Admiral Boscarn offers friendly service and a welcoming atmosphere that will make all visitors feel at home. It's an ideal place for families who want to enjoy some quality time together by the sea.
The Admiral Boscarn provides an unforgettable experience combining great drinks with unbeatable views along with fun activities like pool games which makes it one of the best pubs in Looe!
Map:
Conclusion
Looe offers a variety of great pubs to suit different tastes and preferences. Whether you're looking for live music, sports events or simply a cosy place to have a drink with friends or family, there is something for everyone in this charming Cornish town.
From the historic Fishermans Arms to the family-run Admiral Boscarn on the beach, each pub has unique features that make it stand out from the rest. The welcoming atmosphere and friendly staff are sure to make your visit an enjoyable one.
So why not grab some friends or loved ones and head down to Looe's top 7 best pubs for an unforgettable experience? We hope our list has given you some inspiration on where to go next time you're in town. Cheers!
Related Articles: