Welcome to the stunning coastal region of Cornwall, where breathtaking landscapes meet charming towns and villages. If you're planning a trip to this picturesque corner of England and wondering where to stay, look no further! In this blog post, we'll guide you through the best towns in Cornwall, each offering its own unique charm and attractions. From tranquil countryside retreats to vibrant seaside hubs, there's something for everyone in Cornwall. So pack your bags, buckle up, and let's explore the top destinations that will make your stay unforgettable!
Where to Stay in Cornwall? – Best Towns
1. Bude 
Bude, located in the northern part of Cornwall, offers a serene and peaceful vacation for those seeking tranquility away from the bustling crowds. With its stunning coastal scenery and laid-back atmosphere, Bude is the perfect destination for a quiet getaway.
One of the main attractions in Bude is its beautiful sandy beaches. Whether you prefer to lounge on the sand or take a refreshing dip in the crystal-clear waters, Bude's beaches provide an idyllic setting for relaxation.
For nature lovers, Bude also boasts breathtaking coastal walks that offer panoramic views of rugged cliffs and dramatic seascapes. Take a leisurely stroll along the South West Coast Path and immerse yourself in Cornwall's natural beauty.
In addition to its natural wonders, Bude has charming local shops and cafes where you can indulge in some retail therapy or sample delicious Cornish cuisine. The town center exudes a friendly vibe and provides everything you need during your stay.
If you're looking to unwind further, why not try your hand at fishing or enjoy some water sports? Bude offers plenty of opportunities for outdoor activities that will keep you entertained throughout your vacation.
With its tranquil ambiance and picturesque surroundings, Bude truly stands out as one of the best towns to stay in when visiting Cornwall. So pack your bags, leave behind all worries, and embrace the serenity that awaits you in this hidden gem of northern Cornwall.
Map:
2. Looe 
Looe is a charming coastal town that offers the perfect setting for a family vacation in Cornwall. With its picturesque harbor, sandy beaches, and a wide range of activities suitable for all ages, Looe has something to offer everyone.
Families can enjoy exploring the rock pools at low tide, hunting for seashells on the beach, or simply relaxing and building sandcastles together. For those seeking adventure, there are opportunities for kayaking, paddleboarding, and even boat trips to spot dolphins and seals.
In addition to its natural beauty, Looe also boasts an array of family-friendly attractions. The Monkey Sanctuary provides a unique opportunity to get up close with rescued monkeys while learning about conservation efforts. The Old Guildhall Museum & Gaol offers insight into Looe's history through interactive exhibits that will engage both children and adults alike.
When it comes to dining options, Looe doesn't disappoint either. There are plenty of best restaurants for breakfast and serving delicious seafood caught fresh from the sea as well as kid-friendly eateries offering familiar dishes.
With its welcoming atmosphere and abundance of family-centric activities, Looe is undoubtedly one of the best towns in Cornwall for families looking to create lasting memories together. So pack your bags and head over to this delightful seaside destination!
Map:
</center
3. Truro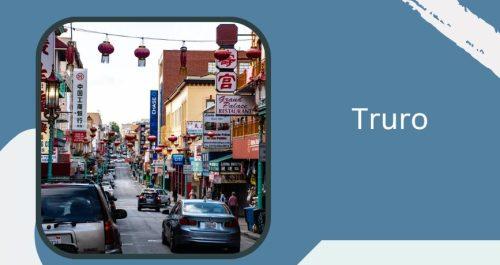 Truro, the vibrant capital of Cornwall, is a must-visit destination for culture enthusiasts, avid shoppers, and avid sightseers alike. With its rich history and charming architecture, Truro offers a plethora of attractions to explore and Truro has offer lot of best hotels to stay.
For culture buffs, Truro boasts an impressive array of galleries and museums. The Royal Cornwall Museum is a treasure trove of artifacts that showcase the region's fascinating past. From prehistoric relics to modern art exhibitions, there's something here to captivate every visitor.
Shopaholics will be in heaven in Truro. Its bustling city center is packed with independent boutiques, high-street stores, and stylish markets. Whether you're hunting for unique souvenirs or indulging in some retail therapy, you'll find plenty of options to satisfy your shopping cravings.
When it comes to sightseeing, Truro doesn't disappoint either. Marvel at the stunning Gothic Revival architecture of Truro Cathedral or take a leisurely stroll along the picturesque riverside paths. Don't forget to visit Victoria Gardens for some peaceful moments amidst beautiful floral displays.
With its mix of cultural attractions, fantastic shopping opportunities, and delightful sights to see, Truro truly has something for everyone. So why not plan your next trip here and stay in the best Truro cottages and discover all that this remarkable town has to offer?
Map:
4. Padstow 
Padstow, situated on the north coast of Cornwall, is a hidden gem that offers something for everyone. Famous for its mouthwatering food scene, this charming town is a paradise for foodies. From traditional Cornish pasties to fresh seafood delights, Padstow boasts an array of award-winning restaurants and cafes that will leave your taste buds dancing with delight.
But it's not just the culinary delights that attract visitors to Padstow. The town's stunning beaches are perfect for those seeking some sun, sand, and surf. Whether you're looking to relax on golden sands or try your hand at water sports like surfing or paddleboarding, you'll find it all here.
Nature lovers will also be in their element in Padstow. This picturesque town is home to an abundance of marine wildlife. Take a boat trip along the coastline and keep your eyes peeled for seals basking on rocks or dolphins playing in the waves. It's an experience you won't forget!
For those who enjoy an active holiday, Padstow has plenty to offer as well. Explore the South West Coast Path with its breathtaking views or hop on a bike and discover the beautiful countryside surrounding the town.
With its unique blend of delectable cuisine, stunning beaches, abundant wildlife, and opportunities for adventure and relaxation alike – Padstow truly stands out as one of Cornwall's top destinations!
Map:
5. Fowey 
Fowey, a small town tucked away on the south coast of Cornwall, offers visitors a delightful mix of history, charming riverside views, and long coastal walks. This picturesque town has a rich maritime heritage that is evident in its narrow, winding streets and quaint cottages.
One of the highlights of Fowey is its fascinating history. The town played an important role during medieval times as a major port for exporting tin and copper. Today, you can explore historical sites like St Catherine's Castle or take a tour of the Fowey Museum to learn more about the area's past.
The charming riverside setting adds to Fowey's allure. As you stroll along the waterfront promenade, you'll be treated to breathtaking views across the estuary. Watch as fishing boats bob gently on the water or hop on board one of the river cruises to get closer to nature.
For outdoor enthusiasts, Fowey offers plenty of opportunities for long coastal walks. Take a hike along the South West Coast Path and discover hidden coves, rugged cliffsides, and panoramic vistas that will leave you in awe.
With its blend of history, scenic beauty, and outdoor activities, Fowey is an ideal destination for those seeking a tranquil getaway with plenty to explore.
Map:
6. Newquay
Newquay is an absolute gem when it comes to planning the best dog -friendly beach getaway in Cornwall. With its stunning coastline and golden sandy beaches, this town offers endless opportunities for fun in the sun. Whether you're looking to catch some waves, build sandcastles with your little ones, or simply soak up the rays, Newquay has got you covered.
But it's not just about the beaches here. Newquay also boasts a vibrant nightlife scene that caters to all tastes and have restaurants that can take of your morning appetite. From cozy pubs serving local brews to trendy bars offering craft cocktails, there's always something you can do in Newquay after the sun sets. Dance the night away at one of the many clubs or enjoy live music performances that will keep you entertained until dawn.
For active families seeking adventure, Newquay is a paradise waiting to be explored. Take part in exhilarating water sports such as surfing, paddleboarding, or kayaking – perfect for getting your adrenaline pumping while enjoying the beautiful coastal scenery.
If you prefer staying on land, why not try out some hiking or cycling trails or stay in the best cottages of Newquay? The surrounding countryside offers breathtaking views and plenty of opportunities for outdoor exploration.
With its unbeatable combination of beautiful beaches, lively nightlife options, and thrilling activities for families, it's no wonder that Newquay is an ideal destination for those seeking an unforgettable vacation experience in Cornwall!
Map:
7. Falmouth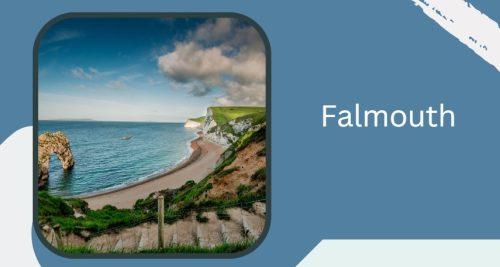 When it comes to finding the perfect blend of urban excitement and coastal relaxation, Falmouth is the ultimate destination in Cornwall. This vibrant town offers a little something for everyone, making it an ideal choice for those seeking a diverse vacation experience.
First and foremost, Falmouth boasts stunning beaches that are sure to take your breath away. With golden sands and crystal-clear waters, you can soak up the sun or take a refreshing dip in the sea. Whether you prefer lounging on Gyllyngvase Beach or exploring hidden coves along the coastline, there is no shortage of seaside beauty here.
But Falmouth isn't just about sandy shores; it also has a rich cultural scene waiting to be discovered. From art galleries showcasing local talent to live music venues offering exciting performances, there's always something happening in this creative hub. Don't miss out on visiting the award-winning National Maritime Museum Cornwall, where you can delve into maritime history and learn more about Falmouth's nautical heritage.
For those who love sightseeing adventures, Falmouth has plenty to offer as well. Take a stroll through its historic streets lined with charming Georgian architecture or visit Pendennis Castle for panoramic views of the coastline. If you're feeling adventurous, hop on board one of the boat trips available in town and explore nearby attractions such as St Mawes Castle or even spot some marine wildlife along the way.
And let's not forget about dining! Food lovers will rejoice in Falmouth's culinary scene which ranges from traditional fish and chips by the harbor to upscale restaurants serving innovative dishes made with locally sourced ingredients. Indulge your taste buds while enjoying breathtaking views across picturesque estuaries – pure bliss!
Map:
8. Marazion
Marazion is the perfect destination for couples looking for a short and romantic getaway in Cornwall. This charming town is nestled along the coast, offering breathtaking views of St Michael's Mount. The picturesque setting provides a serene and intimate atmosphere, making it an ideal spot for lovebirds.
One of Marazion's main attractions is its beautiful beach. Taking a leisurely stroll hand-in-hand along the golden sands, with the sound of waves crashing in the background, creates a truly romantic experience. You can even pack a picnic and enjoy a cozy lunch overlooking the sea.
For those seeking adventure together, Marazion offers various water activities such as kayaking or paddleboarding. Exploring the coastline from this unique perspective adds an element of excitement to your romantic escape.
In addition to its natural beauty, Marazion also boasts some wonderful dining options. Treat your partner to a candlelit dinner at one of the local seafood restaurants while savoring fresh catch-of-the-day delicacies. Don't forget to try their famous Cornish pasties!
To make your trip extra special, consider booking accommodation with stunning sea views or even stay in one of Marazion's cozy bed and breakfasts for an intimate experience.
Whether you're celebrating an anniversary or simply want some quality time together away from everyday life, Marazion offers alluring charm and tranquility that will surely ignite romance during your short getaway in Cornwall.
Map:
9. Penzance
Penzance – a hidden gem in Cornwall, perfect for those looking to explore on a lower budget. This charming coastal town offers a wealth of affordable accommodation options, from cozy bed and breakfasts to self-catering cottages.
Stroll along the picturesque promenade and take in the breathtaking views of Mount's Bay. Explore the quirky streets lined with independent shops, where you can find unique souvenirs without breaking the bank.
For history enthusiasts, Penzance is home to ancient sites such as St Michael's Mount and Penlee House Gallery & Museum. And if you're craving some natural beauty, head to nearby Land's End for stunning cliff-top walks and mesmerizing sunsets.
Foodies will delight in the local cuisine, with plenty of affordable eateries serving up fresh seafood and traditional Cornish pasties. Don't miss out on trying some famous clotted cream ice cream while you're here!
With its convenient location near popular tourist destinations like St Ives and Mousehole, Penzance has a lot of things to do which makes an excellent base for day trips without splurging on expensive accommodation. Plus, public transportation options are readily available if you prefer not to drive. St. Ives and Mousehole have a lot of holiday cottages to stay in; you should check them out if you visit Penzance.
Map:
10. St Ives 
St Ives, located on the western coast of Cornwall, is a picture-perfect town that should be at the top of your list for a first visit to this stunning region. With its narrow cobbled streets, quaint cottages, and breathtaking coastal views, St Ives truly captures the essence of Cornwall.
For art enthusiasts, St Ives is a haven with its numerous galleries showcasing both local and international talent. The Tate St Ives gallery is a must-visit for contemporary art lovers, offering unique exhibitions and stunning views over Porthmeor Beach.
Speaking of beaches, St Ives boasts some of the most beautiful stretches of sand in all of Cornwall. Whether you prefer sunbathing or surfing, you'll find the perfect spot along one of its pristine shores. Take a leisurely stroll along Porthminster Beach or catch some waves at popular surf spots like Porthmeor or Gwithian.
No trip to St Ives would be complete without indulging in some traditional Cornish cuisine. From freshly caught seafood to mouthwatering pasties made with locally sourced ingredients, there's something to satisfy every palate. Don't forget to try the famous Cornish cream tea – scones topped with clotted cream and jam and some other best breakfast restaurants in St Ives – while enjoying panoramic sea views from one of many charming cafes.
With its picturesque charm and vibrant arts scene, it's no wonder that St Ives has been attracting visitors for centuries. Whether you're seeking relaxation or adventure on your first visit to Cornwall, this enchanting town will surely leave a lasting impression!
Map:
11. Bodmin
Nestled amidst the rolling hills and lush greenery, Bodmin is a perfect choice for those seeking a tranquil countryside escape. This charming town offers a sense of serenity and relaxation, making it an ideal spot to unwind and reconnect with nature. With its central location in Cornwall, Bodmin serves as an excellent base for exploring the region's many attractions.
One of Bodmin's advantages is its convenient proximity to numerous sights and landmarks. From here, you can easily embark on day trips to famous destinations like Tintagel Castle or the Eden Project. The nearby Bodmin Moor presents endless opportunities for hiking enthusiasts, offering panoramic views that will take your breath away.
If you're traveling on a lower budget, staying in Bodmin can be quite advantageous. Accommodation options here tend to be more affordable compared to other towns in Cornwall without compromising on comfort or quality. Whether you opt for cozy guesthouses or self-catering cottages nestled within the picturesque countryside, you'll find plenty of wallet-friendly choices.
Immerse yourself in the tranquility of Bodmin by taking leisurely walks along scenic trails or visiting historical sites like the iconic Bodmin Jail. Indulge in delicious local cuisine at the best pubs and quaint tearooms dotted around town.
Bodmin truly offers a delightful blend of natural beauty, central location for sightseeing adventures,and affordability – making it an excellent choice for travelers looking to soak up Cornwall's charm without breaking the bank! So why wait? Head over to this idyllic countryside retreat and create memories that will last a lifetime!
Map:
FAQS
What is the best part of Cornwall to stay in?
For a first-time visitor to Cornwall looking for a balanced experience of natural beauty, cultural attractions, and charming scenery, St. Ives is often considered a great choice.
Where is the best place to stay in Cornwall for the first time?
St. Ives is often recommended for first-time visitors, as it offers a picturesque setting with stunning beaches, a thriving art scene, and a relaxed coastal atmosphere.
Is it better to stay in Newquay or St Ives?
St. Ives is generally considered more charming and offers a quieter, artistic atmosphere. However, if you're seeking a livelier destination with surfing opportunities and a vibrant nightlife, Newquay might be a better choice.
Is it better to stay in St Ives or Penzance?
If you're looking for a more tranquil and artistic experience, St. Ives is a great choice. On the other hand, Penzance provides proximity to historic sites like St. Michael's Mount and offers a more diverse range of dining options.
Related Article:
Best Caravan Parks in Cornwall
Best Places to Visit in Cornwall