Nestled within the London Borough of Merton, South West London, lies the captivating town of Mitcham. Steeped in history that stretches back to Roman times, it stands as a testament to its enduring legacy. As one of the oldest settlements in the area, Mitcham's roots run deep and weave a fascinating narrative.
What was once a humble rural village has blossomed into a thriving suburban hub over the years. Its evolution is evident in every corner you explore. Strolling through its charming streets feels like taking a journey through time—a unique blend of old-world charm and modern vibrancy.
With each step you take, you can't help but feel connected to the past while being immersed in present-day life. The juxtaposition is captivating: ancient buildings tell stories from centuries ago while trendy cafes and boutiques breathe new life into this historic town.
Mitcham embraces both nature and culture with open arms. From picturesque parks and nature reserves to quaint museums showcasing local art and heritage, there's no shortage of things to see and do here.
So come on an adventure with us as we uncover all that Mitcham has to offer—its hidden treasures are waiting for you to discover them!
Things to Do in Mitcham
1. Visit Mitcham Common
Website: www.mitchamcommon.org
When it comes to outdoor activities, Mitcham Common is a hidden gem that offers something for everyone. This large open space provides the perfect backdrop for a leisurely walk, invigorating run, or scenic bike ride. With its sprawling green fields and peaceful atmosphere, it's easy to forget you're just a stone's throw away from the bustling city.
But Mitcham Common isn't just about enjoying nature; it also boasts an array of sports facilities that cater to both amateur and professional athletes. Sports enthusiasts can take advantage of the cricket ground for a friendly match or practice their serves on the tennis courts. And if you have little ones in tow, there's even a playground where they can burn off some energy.
What makes Mitcham Common truly special is its sense of community. On any given day, you'll find locals gathering here for picnics with friends and family or engaging in friendly games of football. It's a place where people come together to enjoy the outdoors and forge connections.
So whether you're seeking some solo time in nature or looking for an active outing with loved ones, make sure to visit Mitcham Common. It offers endless possibilities for fun and relaxation amidst beautiful surroundings – all within reach of South West London!
Map:
2. Explore the Wandle Trail
Website: www.wandlenews.com
The Wandle Trail is a hidden gem in Mitcham that offers the perfect opportunity to explore nature while getting some exercise. This 10-mile walking and cycling trail follows the picturesque River Wandle, taking you on a journey from Wandsworth to Croydon.
As you make your way along the trail, you will be treated to stunning views of the river and its surrounding greenery. The tranquil atmosphere makes it easy to forget that you are just a stone's throw away from bustling London.
One of the highlights of the trail is passing through various parks and nature reserves, including Mitcham Common and Morden Hall Park. These beautiful natural spaces provide a welcome respite from city life, allowing visitors to immerse themselves in lush green landscapes and spot wildlife along the way.
Whether you choose to walk or cycle, this trail offers something for everyone. It's not just about getting from point A to point B; it's about enjoying the journey and taking in all that this scenic route has to offer.
So grab your walking shoes or hop on your bike and set off on an adventure along the Wandle Trail. You won't be disappointed by the beauty and tranquillity that awaits you as you explore this wonderful part of Mitcham.
Map:
3. Visit the Mitcham Museum
One of the must-visit attractions in Mitcham is the fascinating Mitcham Museum. This hidden gem takes you on a journey through time, showcasing the rich history and development of this ancient town.
Step inside and be transported back to Mitcham's origins as a humble Saxon village. Learn about its transformation over centuries into the vibrant modern suburb it is today. The museum tells this captivating story through its carefully curated exhibits that showcase different aspects of Mitcham's past.
Explore a fully recreated Victorian kitchen, complete with authentic utensils and appliances from that era. Imagine what life was like for families preparing meals in those times. It's an immersive experience that gives you a glimpse into daily life long ago.
Stroll through a meticulously recreated 1950s shop, where shelves are stocked with vintage products and memorabilia. Take a moment to soak up the nostalgic atmosphere and marvel at how shopping has evolved over time.
For art enthusiasts, the museum also features a gallery dedicated to local artwork. Admire paintings, sculptures, and other artistic creations by talented individuals who have been inspired by Mitcham's beauty and heritage.
The Mitcham Museum provides an educational yet enjoyable outing for visitors of all ages. Whether you're interested in history or simply curious about how this charming town came to be, this museum offers valuable insights worth exploring during your visit to Mitcham.
4. Go Shopping in Mitcham Town Centre
When it comes to shopping in Mitcham, you'll find a delightful mix of independent shops and well-known chain stores. The town centre is bustling with activity, offering something for everyone's taste and style.
Stroll down the charming streets lined with boutiques, where you can discover unique clothing pieces, accessories, and gifts that you won't find anywhere else. These independent shops offer a personal touch and a chance to support local businesses.
If you prefer more familiar brands, fear not! Mitcham Town Centre also boasts several chain stores where you can find all your favourite high-street fashion labels at affordable prices.
After working up an appetite from browsing through the shops, indulge yourself in one of the many best restaurants or cafes scattered throughout the town centre. From traditional British cuisine to exotic international flavors, there's a restaurant to satisfy every craving.
Whether you're looking for trendy fashions or simply want to enjoy some retail therapy followed by delicious food options, Mitcham Town Centre has it all. So take your time exploring the diverse shopping scene and treat yourself to a memorable experience in this vibrant part of London.
Map:
5. Attend the Mitcham Fair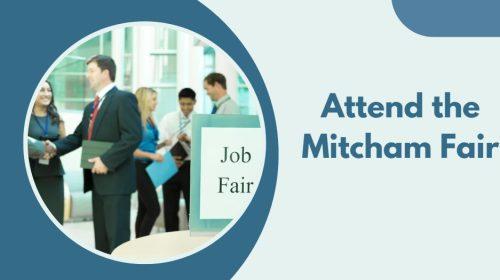 If you're looking for a fun-filled event that captures the essence of Mitcham's local culture, then mark your calendars for the annual Mitcham Fair. Held every September, this traditional fair brings together rides, stalls, and food to create an unforgettable experience.
As you step foot onto the fairgrounds, you'll be greeted with a lively atmosphere buzzing with excitement. From thrilling roller coasters to classic carousel rides, there's something for everyone at the fair. Feel your heart race as you soar through the air on adrenaline-pumping attractions or take a leisurely spin on a merry-go-round.
But it's not just about the rides – the stalls at Mitcham Fair offer a chance to explore local crafts and delicacies. Browse through unique handmade products or indulge in mouthwatering treats from various food vendors. The aroma of freshly popped popcorn and sizzling hotdogs fills the air as visitors gather around each stall in anticipation.
Beyond being an enjoyable day out, attending Mitcham Fair allows you to immerse yourself in the vibrant community spirit of this town. You'll witness families laughing together, friends challenging each other on carnival games, and neighbours coming together to celebrate their shared heritage.
So if you're ready for some good old-fashioned fun and want to get a taste of local culture while enjoying thrilling rides and delicious food, don't miss out on attending Mitcham Fair next September! It's an event that showcases everything that makes this town special – entertainment galore wrapped up in a warm sense of community.
Map:
6. Visit the Lavender Fields
Website: www.merton.gov.uk
When the summer months roll around in Mitcham, there's a special treat for visitors – the lavender fields. These vibrant and fragrant fields are a popular spot for locals and tourists alike to immerse themselves in nature's beauty.
As you stroll through the rows of lavender, your senses will come alive with the sweet scent that fills the air. The sight of endless purple blooms stretching out before you is truly breathtaking. It's no wonder these fields have become such a sought-after destination.
But it's not just about taking in the view. Visitors also have the opportunity to pick their own lavender to take home as a delightful souvenir. Imagine being able to bring a piece of this natural paradise back with you, capturing its essence long after your visit has ended.
Whether you're an avid photographer looking for stunning shots or simply someone who appreciates nature's wonders, visiting Mitcham's lavender fields is an experience like no other. Lose yourself amidst the sea of purple petals, breathe in deeply, and let yourself be transported into a world of tranquillity and serenity.
So next time you find yourself in Mitcham during summer, make sure to add visiting the lavender fields to your list of things to do. It promises not only beautiful sights but also an unforgettable sensory journey that will leave you feeling refreshed and inspired.
Map:
7. Take a Boat Trip on the River Wandle
A boat trip on the River Wandle is a must-do activity when visiting Mitcham. Not only does it offer a unique perspective of the town, but it also allows you to immerse yourself in the stunning local wildlife and scenery that surrounds the river.
With several companies offering boat trips on the River Wandle, you have plenty of options to choose from. Whether you're looking for a leisurely cruise or an adventurous ride, there's something for everyone. Hop aboard and let the gentle current guide you through picturesque landscapes and hidden pockets of nature.
As you glide along the river, keep your eyes peeled for various species of birds, ducks, and other wildlife that call this area home. The tranquillity of the river provides a peaceful environment where you can relax and reconnect with nature.
The boat trips also give you an opportunity to learn about the history and significance of the River Wandle. Discover how it played a vital role in powering mills during Industrial Revolution times and its importance as a waterway throughout history.
So why not add a boat trip on the River Wandle to your itinerary? It's an excellent way to unwind while exploring Mitcham's natural beauty at its finest!
Map:
8. Visit the Morden Hall Park
Website: www.nationaltrust.org.uk
Morden Hall Park is a hidden gem nestled in the heart of Mitcham. This beautiful park offers something for everyone, from its tranquil deer park to its picturesque boating lake. It's the perfect place to escape the hustle and bustle of the city and embrace nature.
The deer park is one of the main highlights of Morden Hall Park. As you stroll through this peaceful area, you can observe these majestic creatures in their natural habitat. It's a truly magical experience that will leave you feeling connected to the beauty of wildlife.
If you're looking for some outdoor fun, head over to the boating lake. Whether you want to paddle around on a rowboat or simply sit by the shore and enjoy the view, this serene spot won't disappoint. The shimmering waters and lush surroundings create a soothing atmosphere that will help you unwind.
Families with children will also appreciate Morden Hall Park's playground. With swings, slides, and climbing frames, there are plenty of ways for little ones to burn off energy while having a blast. And when hunger strikes, don't worry – there's even a cafe where you can grab a delicious bite to eat before continuing your adventures in the park.
Morden Hall Park truly offers an oasis of tranquillity within Mitcham. So why not plan a visit soon? You won't regret exploring all that this incredible park has to offer!
Map:
9. Go bowling at the Mitcham Bowl
Looking for a fun night out with friends or family? Look no further than the Mitcham Bowl! This bowling alley in Mitcham is the perfect place to spend an evening filled with laughter, friendly competition, and maybe even a few strikes.
At the Mitcham Bowl, there are plenty of options when it comes to bowling lanes. Whether you're a seasoned pro or just starting out, there's a lane that's right for you. Choose from traditional lanes or try your hand at cosmic bowling, where neon lights and upbeat music create an exciting atmosphere.
But it's not just about the lanes at Mitcham Bowl. The venue also offers other entertainment options to keep everyone entertained. Challenge your friends to a game of pool or catch up over drinks at the bar while watching live sports on TV. There's something for everyone here.
And let's not forget about the food! The onsite restaurant serves up delicious meals and snacks to keep you fueled throughout your bowling session. From classic burgers and fries to tasty appetizers, there's no shortage of options to satisfy any craving.
So why wait? Grab your friends or gather up the family and head down to Mitcham Bowl for a memorable night out filled with strikes, laughs, and good times. It's sure to be an experience you won't soon forget!
Map:
10. Have a Meal at One of Mitcham's Many Restaurants
Website: www.millerandcarter.co.uk
Mitcham is a haven for food lovers, with its diverse range of restaurants offering something to satisfy all taste buds. Whether you're in the mood for Italian, Indian, Chinese, or any other cuisine you can think of, Mitcham has got you covered. Miller & Carter Mitcham is one of the best restaurants in Mitcham.
Italian food enthusiasts will delight in the authentic flavours and cosy ambience of the local Italian restaurants. From mouthwatering pizzas to delectable pasta dishes, these eateries bring a slice of Italy right to your plate.
For those craving some spice and bold flavours, Indian restaurants in Mitcham are a must-visit. Indulge in aromatic curries, flavorful biryanis, and tantalizing tandoori dishes that will transport your taste buds straight to the streets of India.
If you're more inclined towards Asian cuisine, there are plenty of Chinese restaurants to choose from in Mitcham. Feast on sumptuous dim sums,
stir-fried noodles bursting with flavour or savour traditional Peking duck – each bite is an explosion of taste!
But it doesn't end there; Mitcham also offers a wide array of international dining options such as Mexican cuisine, fusion foods, and so much more! No matter what type of culinary adventure you seek, Mitcham's many restaurants are sure to leave your palate satisfied.
So why wait? Embark on a gastronomic journey through Mitcham's restaurant scene and treat yourself to an unforgettable meal today!
Map:
Conclusion
Mitcham offers a wide range of activities and attractions for visitors to enjoy. From exploring the beautiful Mitcham Common to taking a boat trip on the River Wandle, there is something for everyone in this vibrant town. Whether you are interested in history, nature, shopping, or simply having fun with friends and family, Mitcham has it all.
As one of the oldest settlements in the area with a rich history that dates back to Roman times, Mitcham provides a unique experience for those seeking to delve into its past at the Mitcham Museum. And if you're looking for some outdoor adventure, don't miss out on walking or cycling along the picturesque Wandle Trail.
For those who love shopping and dining out, Mitcham Town Centre boasts an array of independent shops, boutiques, and tasty eateries catering to diverse tastes. And let's not forget about attending the annual Mitcham Fair where you can immerse yourself in local culture while enjoying thrilling rides and delicious food.
If relaxation is what you seek amidst natural beauty, make sure to visit lavender fields during summer months or spend time at Morden Hall Park where deer roam freely and tranquillity abounds. For some friendly competition or just good old-fashioned fun with loved ones, head over to Mitcham Bowl – your go-to destination for bowling excitement.
With so much on offer within this charming London borough town of Merton – from outdoor adventures to cultural experiences – there's no shortage of things to do in Mitchell! So plan your next outing here today and discover all that this vibrant town has waiting just for you.
Related Articles: